Hi ho!
Diese Woche habe ich ganz viel gekocht und viel neues ausprobiert!
This week I cocked different dishes and tried some new recipes and food I never ate before!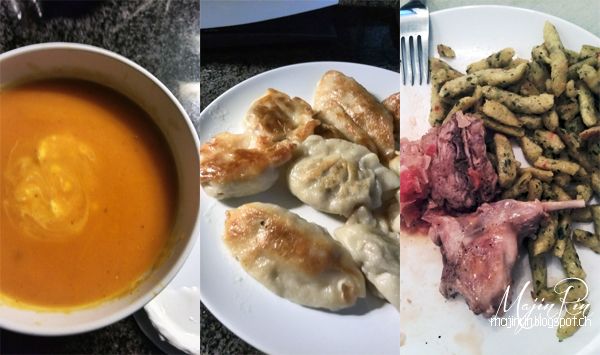 Kürbissuppe / Pumpkin Soup

500 g Kürbis, 1 Zwiebel, 500 ml Bouillon, etwas Rahm, Cayennepfeffer, Muskat, Salz und Pfeffer


Kürbis schälen und in kleine Stücke schneiden. Zwiebel in einem Topf andünsten, die Kürbisstücke beigeben. Dann mit dem Bouillon übergiessen und ca 30 min köcheln. Alles pürieren, Rahm und die Gewürze beigeben. Fertig!
Hab die Suppe zum ersten Mal gemacht und ja sehr lecker! Ich glaube ich hab zum ersten mal Kürbissuppe gegessen *lol* Ich würde die Suppe noch gerne mit Kokosmilch probieren! ♥
Gyoza

Teig/Wrappers: La Fuji Mama (EN)

Füllung/Filling: Küchengötter(DE)

Super Rezept auf Bento Mania! Zu spät gefunden XD
Yaki Gyoza

Very good recipe by Steamy Kitchen


Geschmortes Kaninchen / Rabbit

Nach diesem Rezept auf Küchengötter (DE)


Ich weiss noch, dass ich es einmal in Russland gegessen hab. Im Supermarkt gekauft und dann hats meine Mutter gebraten? Weiss nicht mehr. Jedenfalls hab ich das Rezept ausprobiert und ja sehr sehr lecker!
Habt Ihr diese Gerichte auch schon gegessen? Wie findet ihr Kürbisse? Und habt Ihr schon Kaninchen gegessen oder würdet ihr das nie machen? XD
Have you tried these dishes before? Do you like pumkin? What about rabbit meat, can you eat eat? What do you think?